School News
Here at Father Marquette Catholic Academy, we want our parents and community members to be informed about our student accomplishments, important updates, and inspiring and informative articles. Check our news and events page often for all the latest happenings.
Annual Gala Fundraiser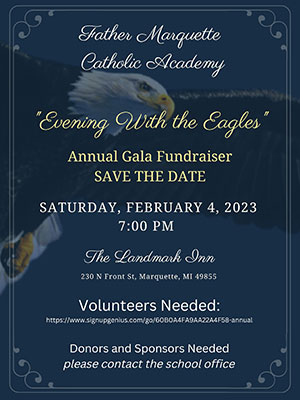 Father Marquette Catholic Academy presents their annual gala fundraiser, "Evening With the Eagles". Save the date for Saturday, February 4, 2023, at 7:00 p.m. at The Landmark Inn, 230 N. Front St., Marquette, MI 49855. Volunteers are needed. Please volunteer online. Donors and sponsors are also needed. Please contact the school office.